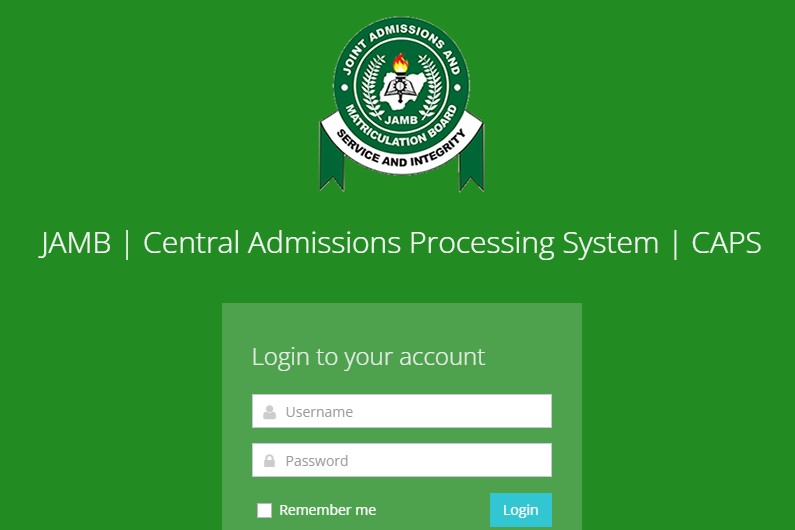 NOTE: SUBSCRIBE TO OUR NEWSLETTER TO BE NOTIFIED WHEN WE POST YOUR SCHOOL'S PAST UTME QUESTIONS AND INFORMATION! 
What is JAMB CAPS?
As another innovation from its stable, the Joint Admissions and Matriculation Board (JAMB) has developed the Central Admissions Processing System (CAPS) to automate the Admissions Process into tertiary institutions.
CAPS simplifies the admissions process, overcomes the issues associated with the manual system, and restores tertiary institutions' admissions authority.
It also puts candidates first, arming them with knowledge about various schools and programs, expanding admission opportunities, eliminating multiple admissions, and providing easily accessible data for decision-making and research on the country's education sector.
JAMB CAPS PORTAL assists in refocusing JAMB's founding ideals as the Clearing House for admissions to Nigeria's higher institutions.
It encompasses the functions of Admission Officers, or the institution's internal admissions organ, as well as the Institution's Heads (Vice-Chancellors, Registrars, and Provosts), who have final approval authority.
JAMB CAPS 2022: How to ACCEPT or REJECT Admission Offer
Jamb portal, J

amb caps 

login,

Jamb

portal login, J

amb caps 

login with registration number, J

amb caps

admission status, J

amb 

e facility, Check

 jamb 

portal, J

amb caps

login 2022/2023
How JAMB CAPS Works
The Central Admission Processing System (CAPS) is likely to include a'marketplace' in the JAMB portal where universities can seek applicants who meet their cut-off points in Nigeria.
Institutions can only admit individuals who meet their cutoff points, according to the system. If a student does not make the cut-off point, he or she will very probably be denied admission, regardless of family ties.
CAPS streamlines the procedure while also introducing some new features. These include the following:
candidates' ability to confirm provisional admissions, reducing the number of occurrences of candidates quitting admissions;
Institutions will be able to recruit individuals from the available pool depending on numerous parameters such as JAMB score, state, local government, and even gender.
Candidates who have yet to receive their O/L results must upload them to the JAMB portal before being considered for admission.
Admissions can be processed in batches and instantly, and candidates can check their admission status at any time on the JAMB portal.
Some universities may not post a list of candidates accepted into their various programs on their website or bulletin board. As a result, applicants should check JAMB CAPS on a regular basis to keep track of their admission status.
Please keep in mind that after you accept the admission, you will no longer be considered for admission to other institutions. If you refuse the admission, on the other hand, you become accessible for admission consideration at other schools with open slots.
How to ACCEPT or REJECT Admission on JAMB CAPS
USING PC:
STEP 1:

 Visit https://portal.jamb.gov.ng/efacility/ which is the JAMB E-facility portal
STEP 2: Log in using the Email Address and Password you created during registration.
STEP 3: Locate and click on Check Admission Status.
STEP 4: Choose your examination year, enter your JAMB registration number in the required column, and click the 'Access my CAPS' button.
STEP 5: Go to the left side and choose 'Admission Status.'
STEP 6: Locate your JAMB Registration Number and click the 'Search' option to load your profile.
STEP 7: Go to your 'Admission Profile' and accept or reject your admission offer.
Using Mobile Device
Note: If you're using a phone, you might not be able to access CAPS to check your admission status. The welcome message may be visible to the majority of phone users. The first page just shows the welcome message because seeing the entire page requires desktop mode. When utilizing a phone, the Chrome browser is suggested. All you have to do is go to the Chrome menu and select request desktop site, as shown below:
Go to the JAMB E-facility portal at https://portal.jamb.gov.ng/efacility/.
Fill in your Email Address and Password in the corresponding spaces to log in.
Then select 'Check Admission Status' from the drop-down menu.
Select your examination year, enter your JAMB registration number in the required column, and select the 'Access my CAPS' option.
You'll be welcomed by a white screen similar to this: (Clicking on the image will enlarge it.)
From the three-dotted line in the top right corner of your browser, select 'Desktop site' (i.e. ). (Clicking on the image will enlarge it.)
Click 'Admission Status' in the left panel.
Locate and select the 'Search' button next to your JAMB Registration Number to load your profile.
You can now accept or reject your admission offer under 'Admission.'
NB: Accepting or declining an admission offer is completely free!
Candidates who have been offered admission through JAMB CAPS should print their admission letter as well after accepting the offer. They'll probably need it for clearance and registration at the school where they've been accepted.
How to Accept or Reject Program / Course Transfer on JAMB CAPS
Go to the JAMB E-facility portal at https://portal.jamb.gov.ng/efacility/.
Fill up the essential fields with your email address and password, then log in.
Then find Check Admission Status and click on it.
Choose your examination year, fill in the required column with your JAMB registration number, and click the 'Access my CAPS' option.
'Transfer Approval' should be selected.
To accept or reject the course transfer, finally click the 'Accept' or 'Reject' option.
For individuals who have not yet been admitted, JAMB CAPS provides information.
JAMB CAPS can be used to follow the status of candidates who have not been awarded admission.
Candidates who chose "awaiting result" during registration must upload their O'Level results to the JAMB portal before their desired university can process their application.
List of Universities That Accept Low JAMB Score for All Courses for 2022/2023 Admission
Low JAMB scores have long been a source of anxiety for individuals seeking admission into Nigeria's many universities, polytechnics, and colleges of education. Many people wonder how they can get into college with a low JAMB score. This is a guide to what to do if your JAMB score is less than 180…..CONTINUE READING
Differences Between JAMB and school Post UTME cut off marks
What is The Difference between Jamb And School Cut Off Mark: Is Jamb Cut off mark different from my School departmental Cut off mark?, State Universities in Nigeria and their Cut off mark?. The answer to this question is one which gets a number of student confused, hence the reason for this write up today…CONTINUE READING
JAMB Cut Off Marks For All Universities, Polytechnics [Full List]
With the Unified Tertiary Matriculation Examination (UTME) results released by the Joint Admission and Matriculation Board (JAMB), prospective students will be curious to know the JAMB Cut Off Marks for the institution of their choice….CONTINUE READING
JAMB Change of Course And Institution / Data Correction 2022/2023 Step By Step Procedure [UPDATED] For UTME & Direct Entry Candidates
Latest Update On JAMB Change Of Course And Institution / Data Correction 2022: This page will discuss about everything you need to know on how to successfully do JAMB Change of Course, JAMB change of Institution, correction of Names, Gender correction, State/LGA of Origin correction, passport photograph correction, UTME subjects correction, profile correction and Date Of Birth correction…… Continue reading 
Guide On How to Check JAMB Results 2022 With Phone SMS 55019 or 66019
Checking JAMB results is one of the simplest things to do. You can check your UTME score by sending an SMS to 55019 or 66019. You can also go to portal.jamb.gov.ng/examslipprinting/checkutmeresults to access the JAMB results portal….CONTINUE READING
1. Go to the JAMB result checking portal
2. Enter your Registration Number/Email Address in the blank box provided.
3. Click on "Check My Results" (The portal will load your result will show on the screen).
Meanwhile, Naijanewslite  reports that JAMB candidates who are anticipating the JAMB Result 2022, can check out the latest updates: >>> 2022 Jamb results release here.
Recommended Links