Did you know that 35% of U.S. adults browse real estate listings just for fun?
Over the last few years, the online window-shopping experience for real estate has become almost as good as the real thing! In fact, 60% of buyers in 2020 made offers on homes sight-unseen. That's why we continue to invest in our website to ensure it's the top digital resource for people looking to buy (and browse!) real estate across the entire state of Vermont.
Here are our top five tips for getting the most out of your digital home search that will save you time and frustration:
---
There are a lot of great reasons to make your account, but our favorite is how much time and money it can save you. Unfortunately, just like any window-shopping or e-commerce experience, scrolling through listings can draw you into a black hole of time while you wait for the properties that fit your parameters to magically appear.
Additionally, if you don't set a budget, you might fall in love with listings outside of your 'responsible price range' and be tempted to convince yourself it's a property you have to have.
Instead, you can personalize your experience and:
save multiple searches,
save your favorite listings,
take notes on listings,
receive daily property updates by email that matches your needs and price range,
and schedule property showings!
---
Tip 2: Save separate searches for your needs, wants, and wishes
Focus your home search on your desired geographical area, and then select what you absolutely NEED in a home.
How many bedrooms? How many baths? What is the maximum listing price? Indicate these features and name your save your search with a name like "Summer 2022 – NEEDS."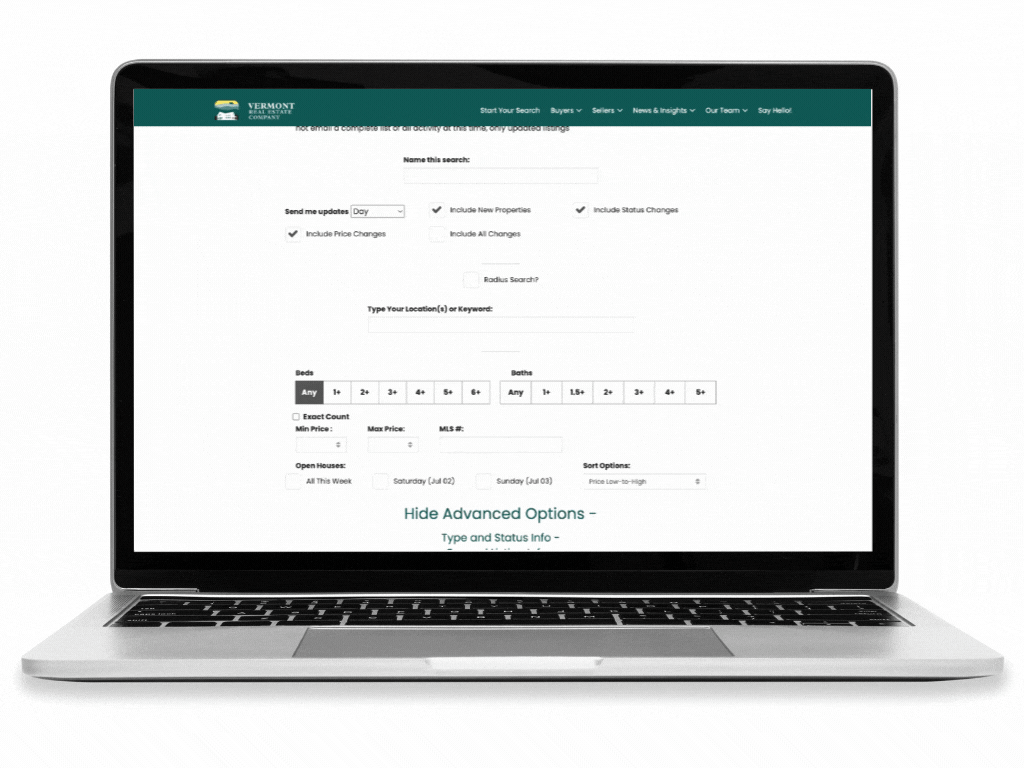 If you do the same for your WANTS and WISHES, when email notifications let you know that there are new listings that match your criteria, you'll easily be able to prioritize them.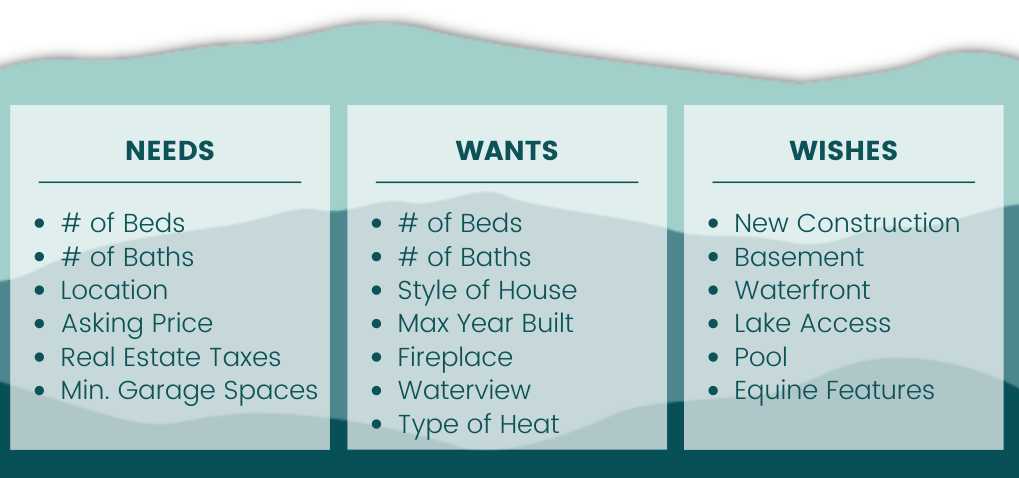 ---
Tip 3: Don't limit yourself to zip codes
When you limit your searches to specific towns and cities, there's a good chance that you might be missing out on homes that fit your criteria and still meet your geographic needs.
That's why we encourage you to draw your own search!  You can do this by selecting towns and/or cities and then designating a radial distance to look for homes OR you can manually draw the search boundaries and see all the listings within that area.

Tip 4: Refine or delete your saved searches as your preferences shift
We just shared the power of building an advanced search, and now we're going to tell you to delete them? How could that possibly make any sense? We promise it does!
Most home buyers' needs, wants, and wishes will change the longer they're on their journey. For example, maybe you'll realize that a basement is a need and not a wish or that the number of garage spaces is no longer as significant as having a fireplace.
As you realize this, be sure to refine your search criteria or build a new saved search altogether. This will ensure that your daily inbox is not cluttered with homes that used to match what you were looking for, and that you're only getting notified of properties that meet you where you're at today.
Tip 5: Leverage the combination of online search + a Vermont Real Estate Company agent 
The information posted on the MLS will only get you so far. While we recommend establishing your search criteria to whittle down your list of prospective properties, it's your agent who will fill in the gaps.
The online listing won't necessarily tell you that the community you're browsing has a "wild, wacky, and wickedly fun parade, street dance, and family festivities" on the Fourth of July (check out Warren in the Mad River Valley!) or that some of the best trick or treating Addison County has to offer (Bristol's the winner here!).
Your online search also won't tell you how competitive you need to be when making an offer or what you can do to increase your chances of it being accepted.
However, if consistent face-to-face interaction with an agent sounds time-consuming, don't worry! Our agents communicate with their clients in the way that's most convenient for you – text, email, phone calls, and once again (finally!), over a cup of coffee.
See Also: